Shopping Cart
Your Cart is Empty
There was an error with PayPal
Click here to try again
Thank you for your business!
You should be receiving an order confirmation from Paypal shortly.
Exit Shopping Cart
Well, February was a bit of a rough month. Needless to say it felt like I lost a month and a half of being productive as I had to rest and heal. That being said, I'm feeling better and things are looking up! WOOT! 
February and the beginning of March were also what we were calling "Snowmaggedon" around here, and our Saturday February workshop by MJ Colette on Writing Erotica (to go with our Valentine Social) actually had to be cancelled because of the weather and roads. The ARWA board doesn't take those decisions lightly, but we felt it was best for our members. On the plus side, she agreed to do not only the cancelled workshop, but also her "The Organized Creative" workshop on our Saturday, March 10th workshop - both were fantastic!  She's such a fun speaker to listen to - I got a lot out of both of the workshops - even started my "Project/Process Journal" - thanks MJ!
Though I couldn't dance or write much for the last while, I have gotten a lot of information to work on and move forward so now that I'm feeling better I am SO excited about it! Our February Thursday night ARWA meeting, we had a quick change as our speaker had to cancel due to a family emergency but Jenny Hops was able to jump in and give us a fantastic talk on Audiobooks. Our Thursday night March meeting, Sarah Sades (www.sarahkades.com) gave a fabulous talk on Camp NanoWrimo and getting ready for it. 
I'm pumped! I'm researching and figuring out what story I'm going to write and intend to hit the ground running on April 1st. That being said, life may get in the way and it may go horribly horribly wrong - but if it DOES, I don't intend to beat myself up about it. I will promise to do my best and if thing go sideways, I promise NOT to feel like a failure, because that accomplishes nothing.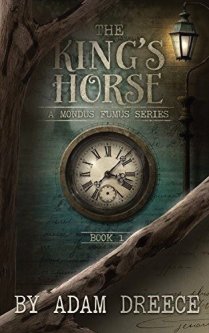 By the way, have you SEEN the new cover for Adam Dreece's new book coming out in June - The King's Horse? It's amazeballs! You can pre-order it on Amazon. He also re-released Snappy & Dashing with a new cover (comes in between The Yellow Hoods Books 2 and 3) and it's fabulous as well! If you haven't discovered this amazing author - do so. It's not just because I'm his Assistant, it's because he's a great writer.
I will find out in April if the presentation I want to do at WWC gets put on the programming, and then I'll tell you all about it. I have a fabulous friend who is pushing me get up my VA website (gears towards writers/authors) and that is exciting for me. She wants to help me do it as she believes in me (awwwhhhh). I'm looking forward to the next few months as I am on the mend and feeling more myself.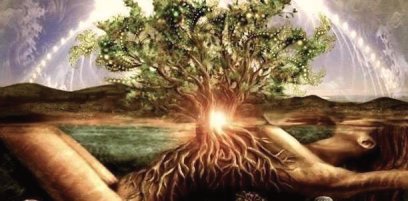 It's Spring, the weather is getting better, I'm feeling more myself, and thinking more positively. Looking forward to what's to come...
Write on...
2017. 
Shit.
Looking at my blog I note I haven't blogged since Dad passed, and that was far to long ago. I honestly had no heart to do it, and my writing was not up to par either.
2017!! 

Time to change. New website design, new writer business cards, new determination to finish the few stories I DO have on the go right now. 

Seriously, the last few years I have not been writing nearly as much as I wanted to be. Call it writers block, call it laziness, I just had no desire.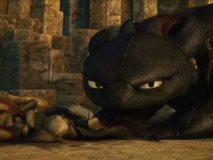 Although I have had a fantastic time both sitting on panels at When Words Collide here in Calgary and attending the fabulous workshops both at WWC and at our monthly ARWA meetings and Saturday workshops, I just couldn't get motivated to write. Nothing much anyway.

A few months ago, one of the members from ARWA said "why don't you try a different genre for now? It might get you started again".

Brilliant. I started again. I actually started on two separate stories (of course). One of which makes me  giggle-snort at times. It came about by some of the ARWA members making a comment in one of our workshops and we went from there. COMPLETELY outside my normal genre of writing. I normally write paranormal romance or if I'm in a different mood, erotica.

It is a mystery with some humour in it (okay, A LOT of humour in it). I'm enjoying writing it. I didn't think I would be able to get back into writing, but changing genres to try something outside my comfort zone is working. I will be putting an excerpt up before end of January. I figure if I declare and state things in print, I will be held accountable.


ARWA had a workshop on Scrivner last Fall and I have started using this writing tool. I am finding it extremely easy and useful and that makes me happy.
It feels like perhaps 2017 may be the year I get my writing mojo back. Switching genres seems to have helped, I don't understand why as yet and want to finish my "Angel" book, as well as "Rope, Saddle & Ride", but I will finish "Write Club" first.
Also working on a story situated on Guernsey, which is also a mystery (without humour)and the hero is a much older man - something new.
Looking forward to (and already registered) to When Words Collide this coming August. Amazing local and international speakers, writers, authors, publishers - it's a fabulous conference to go to.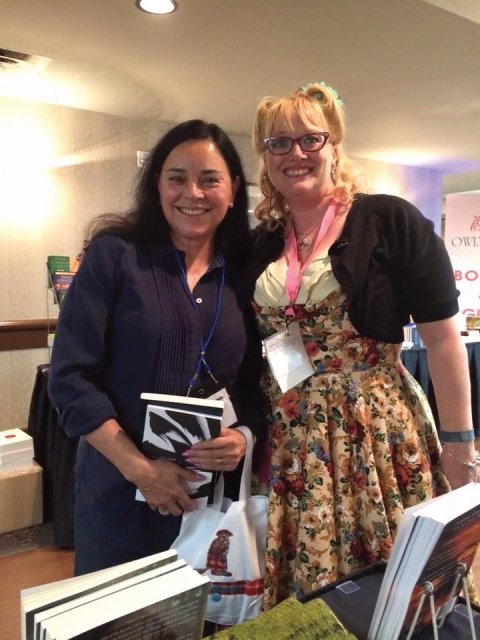 I met Diana Gabaldon in 2015 there (and became BEST SISTER EVER to my twin when I got Diana to sign a book to her). 

She is my twin's absolutely, hands-down, favourite author.  I found to her to be an amazingly adorable person and really entertaining speaker.

I had of course read Outlander and a number of the series after that (given to me by my sister, of course).
After meeting her and speaking with her, I had a desire to read even more of her books - and I'm very much enjoying them. I like her writing - I really really like her writing. The amount of research she does makes me feel SUPER lazy, so I have actually been researching the Isle of Guernsey while I have been writing the story. Unbelievable history! WOW! Research can actually be fun! Didn't realize that LOL.
Now that I've revamped my website and been working on some writing, I'm getting more and more confident. It's been a long time since I've felt not only happy writing, but confident in my writing.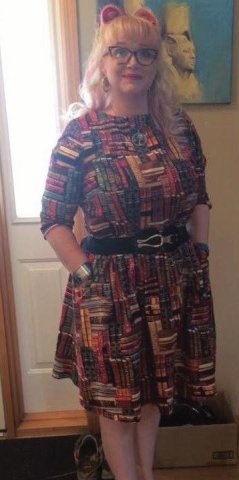 I feel 2017 is my year. My year to prove TO MYSELF what I can do and what I can accomplish. No offense, but I am not doing this for anyone other than myself.
My friend is giving me a Passion Planner to try out - I intend on filling it with A LOT of goals, especially writing goals.
I intend on posting excerpts now and then on what I'm writing to keep me accountable and forward-moving.
I intend on MAKING the time for myself (I love my son but Mommy DOES need some writing time for herself). He is almost 4 1/2 so he knows how to occupy himself playing while Mommy writes. I just need to keep an eye on him and an ear out for when it gets silent.
My new "sign out" this year will be...
Write On...

Well, so far November hasn't hurt as much as I thought it would! 
So...NanoWrimo.  Yes, it IS NanoWrimo month and believe it or not - I HAVE been writing during lunch!!! On the plus side, I'm surprised at how well it's coming along.  On the down side, I realize I've been too busy to update my "word count" on my NanoWrimo writers page.  Whoops. My bad.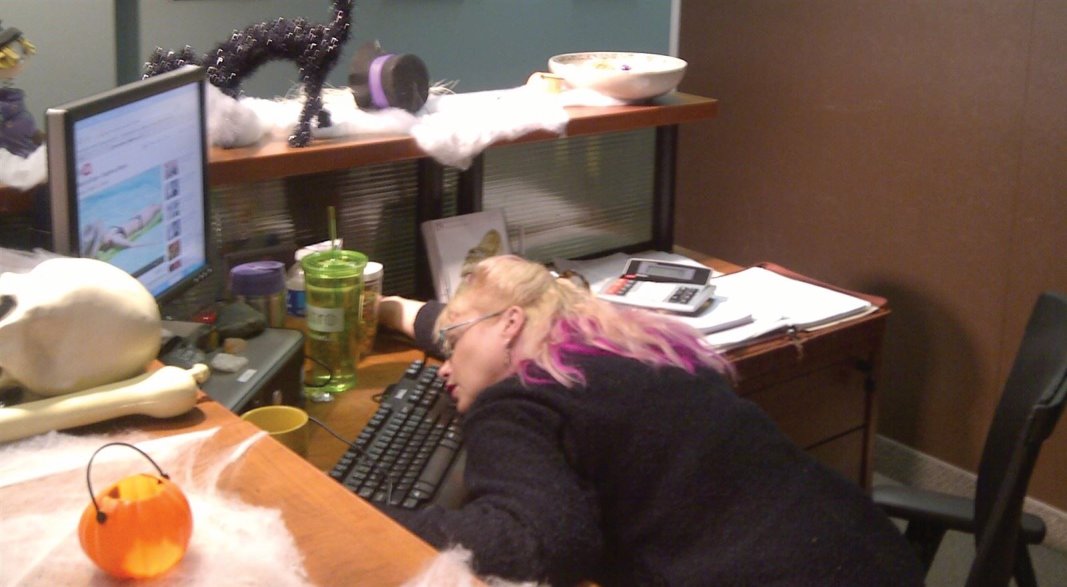 Not at 50,000 words as yet, though I still have 8 days in the month to write.  If I write more than my hour at lunch, I may be able to do it.  I realized when I DON'T update my word count, I don't feel pressure, and I'm able to write more. Interesting.
Although I tell you, sometimes writing through my lunch hour makes me rather tired...
Truly there is so much going on this month, both as a writer, and the other list of things I do on a regular basis, I'm surprised I HAVE been able to write at least an hour during each day (okay, to be honest, sometimes it's 15 minutes here, 15 minutes there - but overall during the day - I have made sure it's at least one full hour).
My workshop on Social Media on November 12th to the Alberta Romance Writers Association seemed to go fairly well.  We had about 14-16 people in attendance and I spoke from 10 till noon, brief 30 minute lunch, then continued from 12:30 till 2:30 pm. So it was a full day workshop, and I was very proud of myself that I did it.  It was my very first workshop but ssshhh...don't tell them that!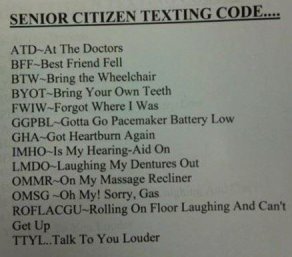 All in all I felt it went quite well.  There was a lot of group participation, which was fantastic, AND I found out one of our writers (who I think is pretty frickin' cool) writes one of THE most sarcastic and hilarious blogs I have ever read. I wrote her name here, then realized she might not want it known to the whopping 5 people who read my blog, so I deleted her name.  If you haven't read The Tragic Spinster yet - please read it!!!
http://tragicspinster.wordpress.com/
.  She  can also be found on Facebook and Twitter!!
Eight days left of this month to see if I can complete my NanoWrimo. Although this year I'm not going to put the pressure on myself like I did last year.  NOT telling people how I'm doing with it has actually felt good.  I'm not trying to rush my writing or meet anyone's expectations other than my own.  All I've asked of myself is I write "for one hour a day" during this month - usually on my lunchhour - and so far (except weekends), I have been doing just that. 
If I complete my book in the next 8 days - yay for me.  If I don't, that's alright with me as well, because I will almost be completed.  Then it will be up to me to get that first draft edited into a second draft.
I have numerous writing plans going through my head, but I think for now I will keep them to myself, as amazingly, it seems to keep the pressure off me and allows me to simply do what I love to do.  To write. To create. To dream.
TLC
Well, it's that time of year again. NanoWrimo time!  I tried it last year, and failed spectacularly, if I do say so myself!!!  Well, that's a lie - I came close.  However, since I didn't finish, I call it a fail.  I just had far to much going on in my life (which yes, I AM aware is a huge excuse) but seriously...I did.
If you are interested in NanoWrimo, the website is
http://www.nanowrimo.org/
- even if you are starting late - you have all of November!!
Samhain has just recently passed and of course, since my ARWA meeting was on October 27th, I went in costume.  Yes, before you wonder - I WAS the only person who came in costume - not a biggie :-)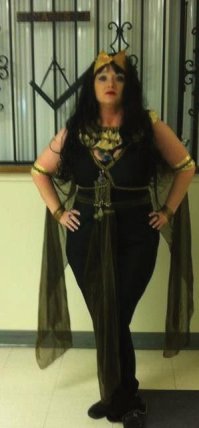 Egyptian Queen Costume
(big shock, I know...lol)
Our speaker was Mahrie Glab, who gave a talk on "Plan To Write".  Fantastic timing Mahrie! It was about taking an old manuscript or a new story, and creating a First Draft in 30 Days.  Well, how damn handy was that?!  Since NanoWrimo is about writing a novel in one month - it seemed like the Universe was telling me to give it another try.  This is what I'm going to do. Wish me luck!
And in between all this, I will be giving the talk to ARWA on November 12, 2011 on "Using the Social Media, Part 2" in regard to having a blog or website, whether you need one as a writer and if so, where the hell do you start?!
Since I have a blog, website, Twitter, Facebook and Four Square account, I guess I'm into the social media, now let's see if I can help others decide if they wish to be involved and whether it's right for them.

Speaking of social media, I saw this cartoon and split a gut laughing, seeing as a few friends and I are users of Four Square - where, basically, you can spy on where all your friends were!!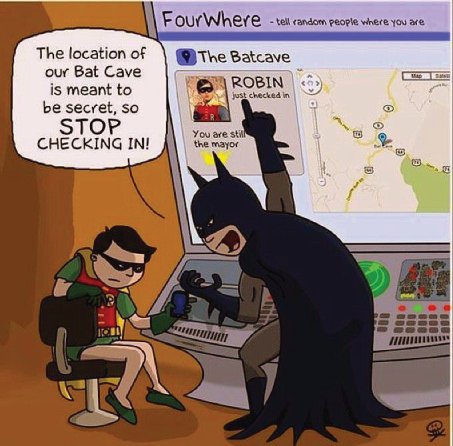 I'm hoping starting from scratch with my book and changing the plot will help me get through NanoWrimo this year.  Since I'm busy every night this week and all weekend (workshop and show of course), I intend on using all my spare time after that in November  on getting the necessary words done per day in order to finish.  To be honest I think I'm already a bit behind, but vow to catch up. 

Well, not ALL my spare time, I still have to rehearse, belly dance, Zumba, clean my house, etc. But I AM using all my lunch hours in November so far to write.  Yay me!

So, there you have my update and plans for November - NanoWrimo and giving a workshop to my writers group. I hope very much to give an informative talk, and, failing that, at least I'll be damn entertaining. 

Please feel free to bring me chocolate!!! I KNOW I'll be bringing my coffee.
TLC

/