Shopping Cart
Your Cart is Empty
There was an error with PayPal
Click here to try again
Thank you for your business!
You should be receiving an order confirmation from Paypal shortly.
Exit Shopping Cart
Well, February was a bit of a rough month. Needless to say it felt like I lost a month and a half of being productive as I had to rest and heal. That being said, I'm feeling better and things are looking up! WOOT! 
February and the beginning of March were also what we were calling "Snowmaggedon" around here, and our Saturday February workshop by MJ Colette on Writing Erotica (to go with our Valentine Social) actually had to be cancelled because of the weather and roads. The ARWA board doesn't take those decisions lightly, but we felt it was best for our members. On the plus side, she agreed to do not only the cancelled workshop, but also her "The Organized Creative" workshop on our Saturday, March 10th workshop - both were fantastic!  She's such a fun speaker to listen to - I got a lot out of both of the workshops - even started my "Project/Process Journal" - thanks MJ!
Though I couldn't dance or write much for the last while, I have gotten a lot of information to work on and move forward so now that I'm feeling better I am SO excited about it! Our February Thursday night ARWA meeting, we had a quick change as our speaker had to cancel due to a family emergency but Jenny Hops was able to jump in and give us a fantastic talk on Audiobooks. Our Thursday night March meeting, Sarah Sades (www.sarahkades.com) gave a fabulous talk on Camp NanoWrimo and getting ready for it. 
I'm pumped! I'm researching and figuring out what story I'm going to write and intend to hit the ground running on April 1st. That being said, life may get in the way and it may go horribly horribly wrong - but if it DOES, I don't intend to beat myself up about it. I will promise to do my best and if thing go sideways, I promise NOT to feel like a failure, because that accomplishes nothing.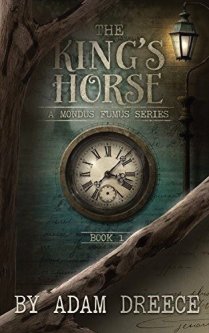 By the way, have you SEEN the new cover for Adam Dreece's new book coming out in June - The King's Horse? It's amazeballs! You can pre-order it on Amazon. He also re-released Snappy & Dashing with a new cover (comes in between The Yellow Hoods Books 2 and 3) and it's fabulous as well! If you haven't discovered this amazing author - do so. It's not just because I'm his Assistant, it's because he's a great writer.
I will find out in April if the presentation I want to do at WWC gets put on the programming, and then I'll tell you all about it. I have a fabulous friend who is pushing me get up my VA website (gears towards writers/authors) and that is exciting for me. She wants to help me do it as she believes in me (awwwhhhh). I'm looking forward to the next few months as I am on the mend and feeling more myself.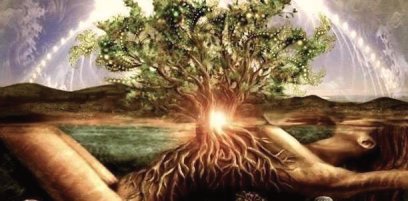 It's Spring, the weather is getting better, I'm feeling more myself, and thinking more positively. Looking forward to what's to come...
Write on...
<exhale>...
Well, 'tis 2012 and my 2011 didn't exactly end how I wanted (writing-wise) - personally it was pretty darn good!  Husband and I went on FABULOUS Christmas cruise and enjoyed ourselves thoroughly.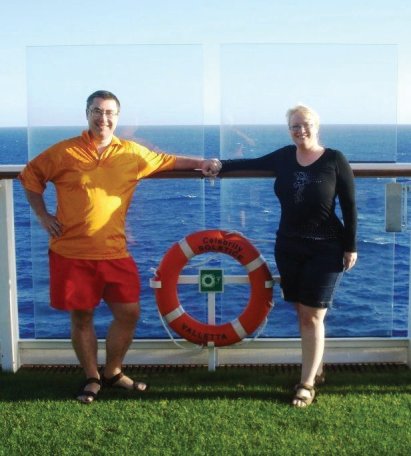 (Rog and I on Christmas Day 2012)
I didn't finish my 50,000 words for Nanowrimo, I know. I know.  I should be tarred and feathered and hung out to dry.  Bad writer, bad.
But as my bud The Tragic Spinster pointed out, I'm not killing myself over it.  I DID get a lot more done in my story, but something just seemed...I don't know...missing???
Have you ever had a weird, nagging "something" in the back of your head when writing that things are different? Things have changed? That the Universe tilted a bit and you didn't notice? There is nothing really showing outwardly, but yet you just KNOW something's up, you just can't figure out what it is? Then all at once a possible solution will hit you and you go "ohhhh...now THAT would explain so many things!". 
I had that moment.  Oprah would be so proud if I called it my "ah ha" moment, but it wasn't an "ah ha" moment, it was just a moment. It came, I took it in, and I moved on.
And you know what? It was good for me.  It somehow seemed to get rid of my writer's block-laziness-procrastination which has plagued me in getting on with this particular story I've been working on FOREVER.  I feel now I can sit my ass down and actually finish it as I know how it ends. 
(I wanted to take a ride on THIS ship!)
I added more to my story today and somehow don't feel any more pressure, any tightness in my heart squeezing it to "get this manuscript finished or the world will end".  I know it will be finished.  I know I WILL finish it.  I promise to no longer feel the pressure of NanoWrimo.  To be honest, I work full time in one job, part time in another, am with several various "groups" which all have meetings, I dance, I rehearse, I just can't put that pressure on myself to do a book in one month.  I can't.  If I didn't work full time - hell yeah, I would give it a go - but pushing myself to be creative when my mind and body is completely full just wasn't feasible.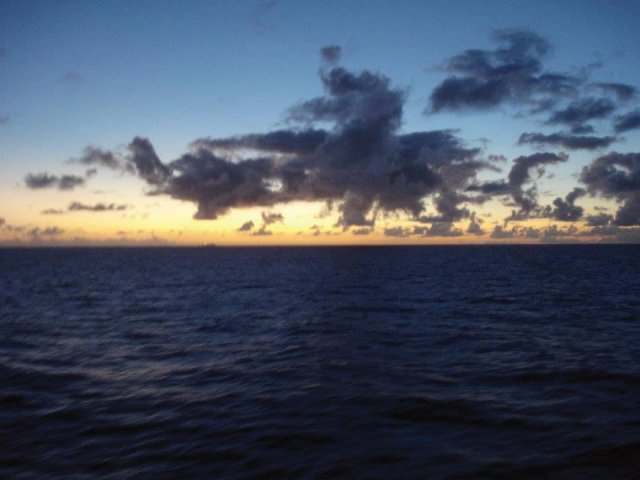 (Every cloud has a silver lining)
So...thank you Universe.  Thank you for releasing me from the questions plaguing my mind and freeing me to start writing again.  Thank you for giving me the ending...now I just need to fill in the middle of the story.
I was feeling so cocky about it, I started looking up publishers and printing out their submission information.  This may be a good thing.
/