Shopping Cart
Your Cart is Empty
There was an error with PayPal
Click here to try again
Thank you for your business!
You should be receiving an order confirmation from Paypal shortly.
Exit Shopping Cart
<exhale>  Well, crap...
So, being a brand spankin' new mom totally interferred with my grand dream of sitting down and writing during the day on my maternity leave, giving me loads of time of course to complete and submit a marvelous manuscript, which of course, would be instantly chosen by a publisher to print...or at least that is the excuse I will use.  But seriously, can you deny this face attention?
David at the Rockyview visiting Grandpa...
That, and well, my "only summer off with my son" didn't quite go as planned.  Around June 20th we had a mightly big flood here in Calgary!! On June 24th, my sister had to get the police to break into my father's house to get him.  Long story short - he had a stroke, then a heart attack.  They told us twice the first week he wasn't going to make it as his kidneys were shutting down, he had an infection in his leg, and he got double pnemonia in his lungs.  Needless to say from June 24th onward I was at the hospital every single day with David to be with my Dad. (and my sister - we REALLY got to know staff at the Rockyview and Carewest - David was a big hit there!)
He DID recover by the way, AND after 2-days shy of 2 months, dad got to go home.  He is now receiving Home Care, and realizing he will never work again and must retire early.  On the plus side, he IS alive - good thing he's a stubborn man. 
So as you can see, I have numerous things to use as excuses for not writing.  To be honest, I just wasn't in the mood.
The very scary incident with Dad did allow me to spend a great deal of time with my sister (she's on the left in purple, I'm on the right), so we would spend mornings at the hospital and try to find something to do with our kids in the afternoons.  Sometimes it worked out, sometimes not so much - but we tried!
David started his daycare and I came off maternity leave and have been back at work since September 3rd.  To be honest, since June 24th I haven't thought of much other than Dad and family.  Little Fish belly dance classes are starting up, and this Friday, I start teaching my belly dance classes again - life is going back to "normal" (as much as my life can be normal). 
Then do you know what I did? I am quite proud of myself actually.  I called my mother and asked her to babysit for the Thursday night September meeting later this month!  I will actually be able to attend the meeting without trying to chase down my 1-year old (he turned one on September 5th!) as he is crawling QUICKLY and almost trying to walk - it's just too much to try to attend a meeting and chase him down - I can't focus on what I'm there for. 
I've just been so focused on being a Mom and being there for my Dad that it feels like I haven't been there for myself.  I know it is wrong, and I know I need to take better care of myself (David and I currently have bronchitis - yay for daycare...). 
Baby steps (no pun intended).  I need to take baby steps.  The whole "I'm going to write a manuscript no problem while on maternity leave" thing didn't pan out.  So I will take baby steps.  Getting a babysitter so I can attend our first ARWA Thursday night meeting (AND pay attention) in September is a start. 
David and Mommy on his 1st birthday
Isn't his morning face adorable?
Maybe being back at work and in an office environment will give me the desire to begin writing again.  Maybe not.  Either way I need to get off my ass and start writing again - I need to find that desire, that spark again. 
Hmmmm....maybe I'll think about it over cake and coffee...
Well okay world...here he is:
May I introduce David Alexander - he came "a la Superman flying pose" on September 5th and changed our lives!
Seriously, to those ladies who go on and on about "oh, you forget about the pain because it's soooo worth it once you look at them".  Well, screw you. <grin>
It WAS worth it, however, I don't know what kind of amnesia you are suffering from, but I most certainly did not forget, nor will I ever forget that pain.  HOLY MOLEY people!  Good grief! I have a high pain threshold but COME ON!!!
I have been very on and off with writing since my last posting earlier this year - and yes, I know it's not an excuse. Some days I FELT like writing, and some days I was just feeling too icky to do so. 
Since David's appearance, I have actually found some time to write, but not as much as I want, and I know that means I need to start scheduling time (preferably when he's sleeping obviously) however, lately when he is sleeping I try to catch a quick nap myself.
One thing I'm excited about is his nursery (which is almost completed) - but since he is sleeping in our room for awhile I still have some time.  I got some pictures taking during my 7th month of pregnancy of me (and David) dressed as a fairy that I will be putting in his room - which is based on the Lord of the Rings - The Shire (no, no I will NOT be putting the Eye of Saron above his crib or anything like that - think trees, nature, etc.)
Tomorrow night, I will be going to my first ARWA meeting of the year (missed September meeting - was still getting used to being a mom). The girls have said they don't mindDavid attending with me - and since for the most part he is a very laid back kid - hopefully he behaves himself. Looking forward to seeing my writing friends and getting that desire back.
I need to finish my current manuscript - I need to. Not for anyone else other than me, but yes, I need to finish it and damnit it - submit it.
I need to start working a schedule where I do have at least 30 minutes to one hour of writing a day.  But since David isn't currently one to "go along with a sched", I am kind of winging it as to when I have time.  Frankly, sometimes when I DO have time, I just think "ahhhh...what's on Judge Judy today?"
I think this black and white photo pretty much sums up my blissful feeling lately, only now he's out, not in.
Since this is the first time ever I have not worked since I was 18, it's a little difficult to get used to this new "timeframe".
All that said, looking forward to getting into my writing again and finding TIME (make that MAKING time) to write and complete my manuscript.  I know going to my monthly ARWA meetings is a big step toward that - being in the same room with such a bunch of creative and downright fun women will do that to a writer!
Writing is important to me, and so is my family, and finding a healthy balance between the two (well, three as I have to add belly dancing) will be what I aim for.
Well now...it has been VERY difficult to not post on my blog for the past three months, which I purposely did just in case I was tempted to spill the beans.
The second week in January, after being relaxed and getting back into the work-groove from our fabulous Christmas Cruise, my husband and I had a life-altering moment.  A lot of women know this moment, it's the "pee on a stick and run out of the room for 3 minutes" moment.
Realizing I was late (thanks to my handy-dandy period tracker app - yes, they pretty much have an app for everything!), I thought "oh, my schedule was screwed up when we came back from Egypt too, so that's it"...after the "you are 7 days late" app notification I thought "hmmm..maybe I'm going through early menopause - I am the right age".
After the "you are 10 days late" app notification, I knew I had to pee on a stick. Then check it with a clinic.  Then double check it with my doctor.  Yes, I verified it many times, seeing as I haven't been able to get pregnant in 21 years - yeah - bit of a shocker.  So yes, my husband and I will be welcoming a child into our lives in September. I'm terrified, but I'll get over it.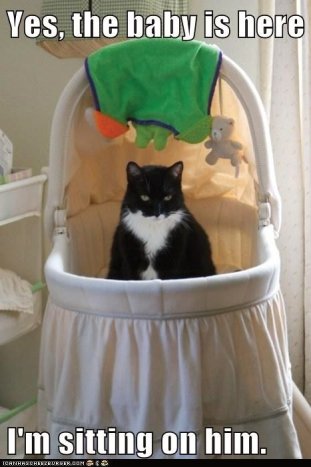 (am I going to hell because I find this hilarious?)
So, for the past 3 months I have done absolutely no writing as frankly, I was exhausted and tired and sleeping a lot.  Apparently, that's normal, even though I felt like the worlds laziest tit. 
Hmmm...(stepping on soap box) I would like it noted I really really dislike that doctors kept making me feel terrified because I'm "HIGH RISK"...yes, I'm 41...big deal.  I'm also a belly dancer and in better physical shape than many people much younger than me. <sticking tongue out>
On the plus side, now that we have FINALLY been able to blab the news as we are past the 12-week mark, and got a "thumbs up" on the tests I had to go through, I feel a huge weight has been lifted off my shoulders, and I began writing again during my lunch hours.  A few times the thought of "are pregnant women allowed to write naughty romance novels?" goes through my head, but I kill it with coffee and a truffle or two.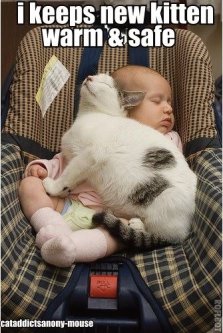 (cross your fingers our cat, Otaa, feels protective too)
I have a lot to prepare for before September, but we have a fantastic support network of friends and family behind us, so I know everything will be okay.  I have also stuck a deadline in my head now to complete my current manuscript, as I won't be having a lot of time for the first while in September - so I best get off my ass and continue writing.
/