Shopping Cart
Your Cart is Empty
There was an error with PayPal
Click here to try again
Thank you for your business!
You should be receiving an order confirmation from Paypal shortly.
Exit Shopping Cart
| | |
| --- | --- |
| Posted on September 18, 2011 at 3:01 PM | |
So...been awhile since I updated my blog.  It was an interesting August to be sure. First two weeks were spent on vacation - no writing, no dancing...just being.  It felt wonderful!  Came back to reality and had to deal with some health issues with my dad (I can happily report he is now doing MUCH better and it getting stronger every day).
I was reminded (nagged) by my best friend today I have not written on my writer's blog since the end of July, so I am giving a quick update.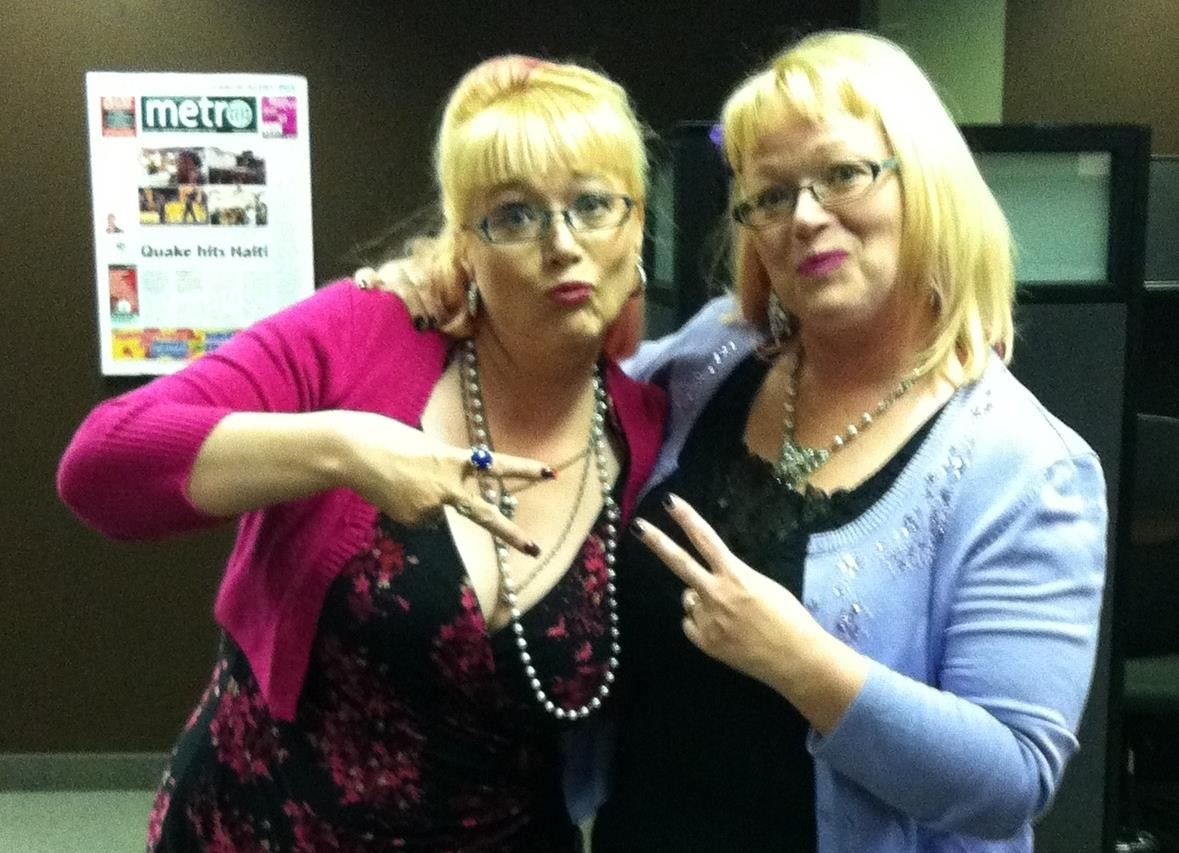 (my twin and I being mature on our 41st birthday)




Still have not posted snippets of stories but should have some up by end of September.  Must edit them a bit before posting and be prepared for commentary.  Fair warning I will not be posting the "really juicy" bits, as I frankly don't want to post those online quite yet...my mother reads my website...LOL




Have only continued writing RS&R a few times as I haven't been in the mood to write as much as I truly should.  I have two shows to dance in next week, plus woke up the day before my 41st birthday with a WICKED cold and I've been attempting to drug it into submission.  This is truly NOT the week I can afford to be sick.  Working full time, two shows to perform in, a workshop, an ARWA meeting, 3 classes to teach, AND a cold...urgh.




I know I will again get my writing bug back this coming Thursday, as it will be our first Alberta Romance Writers meeting of the year and I always get more passionate about my writing after being in a roomful of like-minded women who have a desire to write as strong as mine.  I missed them over the summer and though I did indeed get some of my "summer writing commitments" accomplished, I didn't get them all done.  Maybe next year I'll pick just ONE goal.  Doesn't sound like something I'd do though LOL...I seem to like stress.





So plan for this week...drug stupid cold into submission and do best to ignore it.  Be FABULOUS dancing in the two shows I'm in this week, enjoy my ARWA writers meeting and then after the flurry of this week is over, GET OFF MY ASS and continue writing.





I need to complete RS&R and get my best friend, K-A, to edit it.  She's honest in her opinion (which I really do appreciate) and a damn good editor - so now I'm going to use her for that. I am going to pay her for her services as I believe she should be an editor as a profession. She's just that good - I just need to convince her of it.




TLC













Categories: Goals

0

/