Shopping Cart
Your Cart is Empty
There was an error with PayPal
Click here to try again
Thank you for your business!
You should be receiving an order confirmation from Paypal shortly.
Exit Shopping Cart
| | |
| --- | --- |
| Posted on November 3, 2011 at 6:44 PM | |
Well, it's that time of year again. NanoWrimo time!  I tried it last year, and failed spectacularly, if I do say so myself!!!  Well, that's a lie - I came close.  However, since I didn't finish, I call it a fail.  I just had far to much going on in my life (which yes, I AM aware is a huge excuse) but seriously...I did.
If you are interested in NanoWrimo, the website is
http://www.nanowrimo.org/
- even if you are starting late - you have all of November!!
Samhain has just recently passed and of course, since my ARWA meeting was on October 27th, I went in costume.  Yes, before you wonder - I WAS the only person who came in costume - not a biggie :-)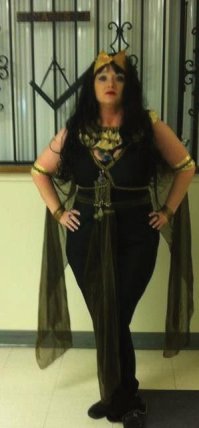 Egyptian Queen Costume
(big shock, I know...lol)
Our speaker was Mahrie Glab, who gave a talk on "Plan To Write".  Fantastic timing Mahrie! It was about taking an old manuscript or a new story, and creating a First Draft in 30 Days.  Well, how damn handy was that?!  Since NanoWrimo is about writing a novel in one month - it seemed like the Universe was telling me to give it another try.  This is what I'm going to do. Wish me luck!
And in between all this, I will be giving the talk to ARWA on November 12, 2011 on "Using the Social Media, Part 2" in regard to having a blog or website, whether you need one as a writer and if so, where the hell do you start?!
Since I have a blog, website, Twitter, Facebook and Four Square account, I guess I'm into the social media, now let's see if I can help others decide if they wish to be involved and whether it's right for them.

Speaking of social media, I saw this cartoon and split a gut laughing, seeing as a few friends and I are users of Four Square - where, basically, you can spy on where all your friends were!!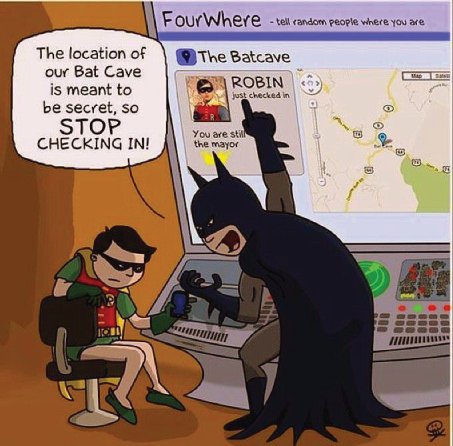 I'm hoping starting from scratch with my book and changing the plot will help me get through NanoWrimo this year.  Since I'm busy every night this week and all weekend (workshop and show of course), I intend on using all my spare time after that in November  on getting the necessary words done per day in order to finish.  To be honest I think I'm already a bit behind, but vow to catch up. 





Well, not ALL my spare time, I still have to rehearse, belly dance, Zumba, clean my house, etc. But I AM using all my lunch hours in November so far to write.  Yay me!





So, there you have my update and plans for November - NanoWrimo and giving a workshop to my writers group. I hope very much to give an informative talk, and, failing that, at least I'll be damn entertaining. 





Please feel free to bring me chocolate!!! I KNOW I'll be bringing my coffee.




TLC





Categories: NanoWrimo, Social Media

0

/