Shopping Cart
Your Cart is Empty
There was an error with PayPal
Click here to try again
Thank you for your business!
You should be receiving an order confirmation from Paypal shortly.
Exit Shopping Cart
| | |
| --- | --- |
| Posted on March 14, 2012 at 2:06 PM | |
Well now...it has been VERY difficult to not post on my blog for the past three months, which I purposely did just in case I was tempted to spill the beans.
The second week in January, after being relaxed and getting back into the work-groove from our fabulous Christmas Cruise, my husband and I had a life-altering moment.  A lot of women know this moment, it's the "pee on a stick and run out of the room for 3 minutes" moment.
Realizing I was late (thanks to my handy-dandy period tracker app - yes, they pretty much have an app for everything!), I thought "oh, my schedule was screwed up when we came back from Egypt too, so that's it"...after the "you are 7 days late" app notification I thought "hmmm..maybe I'm going through early menopause - I am the right age".
After the "you are 10 days late" app notification, I knew I had to pee on a stick. Then check it with a clinic.  Then double check it with my doctor.  Yes, I verified it many times, seeing as I haven't been able to get pregnant in 21 years - yeah - bit of a shocker.  So yes, my husband and I will be welcoming a child into our lives in September. I'm terrified, but I'll get over it.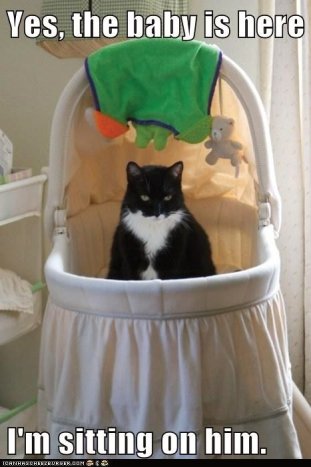 (am I going to hell because I find this hilarious?)
So, for the past 3 months I have done absolutely no writing as frankly, I was exhausted and tired and sleeping a lot.  Apparently, that's normal, even though I felt like the worlds laziest tit. 
Hmmm...(stepping on soap box) I would like it noted I really really dislike that doctors kept making me feel terrified because I'm "HIGH RISK"...yes, I'm 41...big deal.  I'm also a belly dancer and in better physical shape than many people much younger than me. <sticking tongue out>
On the plus side, now that we have FINALLY been able to blab the news as we are past the 12-week mark, and got a "thumbs up" on the tests I had to go through, I feel a huge weight has been lifted off my shoulders, and I began writing again during my lunch hours.  A few times the thought of "are pregnant women allowed to write naughty romance novels?" goes through my head, but I kill it with coffee and a truffle or two.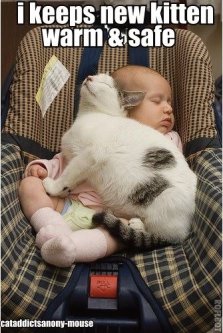 (cross your fingers our cat, Otaa, feels protective too)

 

I have a lot to prepare for before September, but we have a fantastic support network of friends and family behind us, so I know everything will be okay.  I have also stuck a deadline in my head now to complete my current manuscript, as I won't be having a lot of time for the first while in September - so I best get off my ass and continue writing.

 

 

 

 

Categories: Deadline, Baby, writing, motivation, inspiration

0

/