Shopping Cart
Your Cart is Empty
There was an error with PayPal
Click here to try again
Thank you for your business!
You should be receiving an order confirmation from Paypal shortly.
Exit Shopping Cart
| | |
| --- | --- |
| Posted on January 31, 2017 at 5:39 PM | |
What a fantastic month for learning the craft of writing and forward movement January has been!

I DID get my new business cards...feeling all swanky...LOL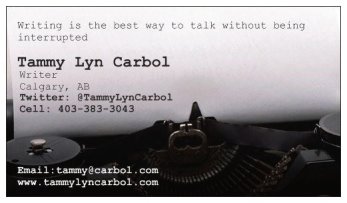 Attended a Saturday ARWA workshop given by Swati Chavda (
www.swatichavda.com
) on Writing Immersive Fiction. She gave the information in such a fresh perspective and view, the whole room was hooked in about 3 minutes. Haven't been to a workshop where we were all that quiet in a very long time - we were soaking it all in. Seriously fantastic.
I couldn't believe the amount of information given and notes I took. I have included the link to her website (above) where she has notes from said workshop, and some other really great information. Amazing lady to know and amazingly fabulous to sit down and have a conversation with! You can also follow her on Twitter.

Then for our Thursday night meeting, our speaker was the fabulous G.W. Renshaw, who gave us "Wilderness Survival Tips for Writers". The write-up was "Do you have characters who cross dangerous lands in pursuit of their goal, and must learn to survive in all terrains with meagre resources? If so, you will not want to miss this session on wilderness survival tips. Come. Your protagonist's life may depend on it."
Well, I was honestly impressed in MYSELF for knowing quite a bit more about wilderness survival than I thought! G.W. Renshaw (
www.gwrenshaw.ca
) was an engaging and enthusiastic speaker, and it really makes sense to know these, especially when you are writing and your characters are in one of these situations. People who KNOW about wilderness survival will know when you are fibbing about a survival situation, and your readers will not find it a believable situation. Best to know what you are talking about.
I unfortunately had to leave early because I had to get home to babysitter, but I was sent the rest of the notes by another ARWA member. We went over our normal time by at least 30 minutes, but he was so engaging and informative, nobody wanted to leave. Great speaking voice as well!
You can also follow him on Twitter!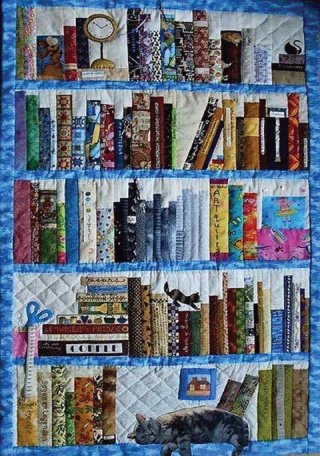 A number of people tagged me in this AMAZING "book quilt" - which I absolutely love.  Only problem is that I don't quilt. So this is going on my "one day when I can afford to have someone make it for me" list. Absolutely amazing and so much work! I truly appreciate the skill whoever did this. I know many quilters and the amount of work put into a quilt is tremendous, AND they put a lot of love into them as well.
I WAS WRITING! I worked on Write Club, and also continued on Angel. Have been using Schrivner, and truly enjoying this writing tool so far.
Starting to get the creative juices back and perhaps it's just been that my brain needed a rest from writing. Not sure, but it seems to be back - which I am very thankful for.  Also having a number of emails with words of support helped a lot for my confidence - thank you friends!

Still looking for full time work (being laid off since last June has been difficullt) but since I AM, while I continue to job search, I have time to continue writing.

Tried some of the Virtual Assistant sites, but apparently they have to many right now to accept me on them (the ones I've tried so far anyway), so I keep on keeping on. I figured I could go onto one of those sites and find authors who needed audio transcribed into manuscripts. Will keep trying to figure out where to find that. If you happen to know where to find this information, or know an author looking for a VA -  send me an email! Would be much appreciated!

So never give up, never slow down, and learn to give yourself some slack.  Nobody is perfect, we just do the best we can with what we have.

Write On...

Categories: None
/